FUTURE OF LEADERSHIP EMPOWERING SUCCESS & HAPPINESS
August 29, 2018, at 6:00 pm

to

8:30 pm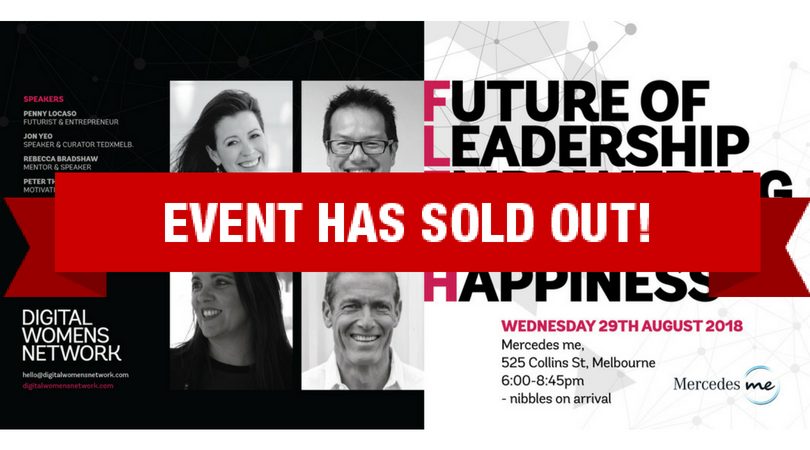 Join us 29th August to hear from our panel of experts as we explore Future of Leadership, Success and Happiness. The event outlines and highlights how to shift Leadership and how to amplify and build personal confidence skills. Whilst navigating company culture, personal values, team engagement and management.
This panel event is a unique opportunity to hear from exceptional speakers that are leaders in their respective fields.  Focused on the challenges Women face in leadership in the current social and economic climate.
Join us with our partners Mercedes Me at their spectacular event on Collins street 29th August from 6pm onwards.
• 29th August 2018
• Mercedes me, 525 Collins Street, Melbourne
• 6:00-8:45pm
• Nibbles on arrival
• Drinks at bar prices
• Full dining options available next door at Merchant Osteria
• Merchant Osteria 495 Collins Street Melbourne Victoria 3000 P. 03 9614 7688 GROSSI.COM.AU
Our Panel
• Penny Locaso- Futurist & Happiness Hacker
• Jon Yeo- Speaking Coach & Curator of TEDxMelbourne
• Peter Thurin- Thought leader & Motivational Speaker
• Rebecca Bradshaw- Mentor & Speaker
Penny Locaso – Female leadership expert & Futurist https://www.linkedin.com/in/pennylocaso/
LinkedIn's No 1 Humanity Futurist, Voted most influential female entrepreneur in Australia by The Age & Sydney Morning Herald. Penny Locaso is the world's first Happiness Hacker, on a mission to teach ten million women and girls, by 2025, how to future-proof happiness. Penny is one of the first Australian women to be accepted into Singularity Universities Executive Leadership program at the NASA Research Centre Silicon Valley. This program provides the opportunity to learn from the best Artificial Intelligence and technology leaders in the world. Penny advocates fear(less)ness and practices what she teaches. She went viral on Linkedin (50,000+ views) and created a global movement after delivering a keynote in her bathing suit, to demonstrate the power of getting comfortable with discomfort.
Jon Yeo – Curator TEDxMelbourne & Speaker coach https://www.linkedin.com/in/jonyeo/
Jon Yeo is the Intelligence behind the art and science of what it is to be a public speaker. He helps Executives and Leaders to articulate the sophistication of their content with a simplicity that guides and inspires their teams. Jon was the pilot of TEDx globally and is the Curator of TEDxMelbourne he held this licence since 2009 the longest in the world.
Peter Thurin – Mentor, Thought leader & motivational speaker https://www.linkedin.com/in/peterthurin/
Peter is an international speaker and leading authority on achieving excellence, he educates people all over the world and empowers them to achieve excellence in their own lives.   A dynamic, inspirational and passionate speaker and a powerful catalyst for business growth. He brings a relentless focus on the choices we must make and the challenges we must embrace to lead us to our passionately desired end result. Peter's focus on people excellence has been a major factor in the remarkable results achieved by many of the companies he has worked with. His talks empower people to become fully committed to their success and gives them the tools to achieve their goals.
Rebecca Bradshaw – Mentor, Speaker focused on culture & process https://www.linkedin.com/in/bekbradshaw/
Rebecca is passionate about people and cultural framework. The founding principal of her own business for over 10 years, Rebecca is an expert at working with individuals and leadership teams to build an organisational culture based on common values.
Rebecca's formula for success involves being clear about personal and organisation core values and understanding what they look like in action.
Rebecca works with organisations that place the highest priority on their culture and works to design systems which generate positive results for internal stakeholders and customers.
Learn how to invest in self and overcome the various barriers to unlock greater value from diversity and develop inclusive teams and empowered leadership.
We are looking forward to seeing you there,
Cheers Angela & Digital Women's Network
Many thanks,
Angela Mellak MCIM
Judge for Anthill 2018 Top 100 Innovative Companies
Top 10 LinkedIn influencer 2017
Director and Strategist – Digital White Space
Co-founder – Digital Women's Network
Level 3, 530 Collins Street, Melbourne 3000
M: +61(0)466 619 631
https://digitalwhitespace.com.au
https://au.linkedin.com/in/angelamellak