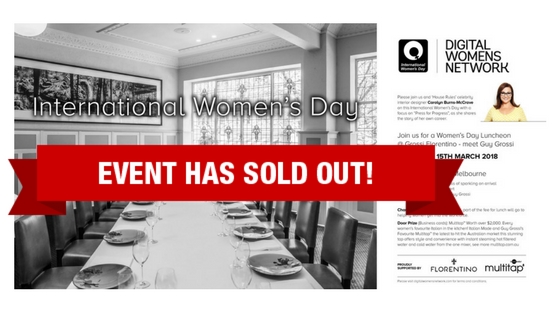 We are pleased to announce that the last few seats for the event this Thursday have been filled.
If you have missed out on purchasing the tickets and want to be on the waiting list, please email us at hello@digitalwomensnetwork.com.au and we will get in touch with you.
We are excited to welcome you all to an exclusive luncheon by Guy Grossi.
We will discuss the focus of International Women's Day 2018 is "Press for Progress", meet 'House Rules' celebrity interior designer Carolyn Burns-McCrave who will shares with us her career story.
Details:
On arrival: A little canape with Prosecco
Main: Short Rib, Parsnip, Shallots (salads on the table too) a glass of white or red once the ladies sit down.
Dessert: The most exciting part! Sfera, Peach, Prosecco, Almond. The Sfera is a ball made out or sugar, looks like a glass bauble, and it's going to make it purple in honour of the International women's day!
Charity partner: Dress for success, part of the fee for lunch will go to helping women get into the workforce.
Door Prize (Business card draw): MultitapTM Worth over $2,000. Every women's favourite Italian in the kitchen! MultitapTM is the latest to hit the Australian market, this stunning tap offers style and convenience with instant steaming hot filtered water and cold water from the one mixer, see more at multitap.com.au
Dietary requirements: Please contact us at hello@digitalwomensnetwork.com