Samantha Freebairn Wing Commander for the Royal Australian Air Force (RAAF) gave a speech in China for the World Economic Forum, in the lead up to our event 24th July 2019 we wanted to share more about how Samantha's approach that has fulled major cultural change with the RAAF as well as for many of the Women she inspires through her coaching and as a World Economic Forum and Telstra Business Women Leader. Here is the full video
As a child, Samantha always wanted to be a pilot, she is grateful her upbringing didn't discourage that interest and passion. Growing up with one sister, Samantha attended an all-girl's school for her secondary education.
"This ensured I didn't have a socialised or gendered view on what I could or should not do."
All the leadership positions in her school were held by girls, and if you were good at something, it was expected you would pursue it. This provoked Samantha to focus on STEM subjects – traditionally seen as a "boy's subject" – before eventually going back to her true passion and joining the Air Force.
I used to drive to my flying lessons on my L plates, I'd get in a plane and fly on my own but then my grandad had to sit beside me while I drove home."
Today, the Ms Freebairn has her driver's licence and she is now ranked as the most senior female pilot in the RAAF as evidence in her recent promotion to Wing Commander. Wing commander is a senior commissioned rank It ranks immediately above squadron leader and immediately below group captain.[1] It has a NATO ranking code of OF-4, and is equivalent to commander in the Royal Navy and to lieutenant colonel in the British Army, the Royal Marines, and the US Army, Air Force, and Marine Corps.
As the only woman in my pilot training course in 1996, I spent the early part of my career trying to fit in and grappling with complex negotiations of femininity in a male-dominated environment.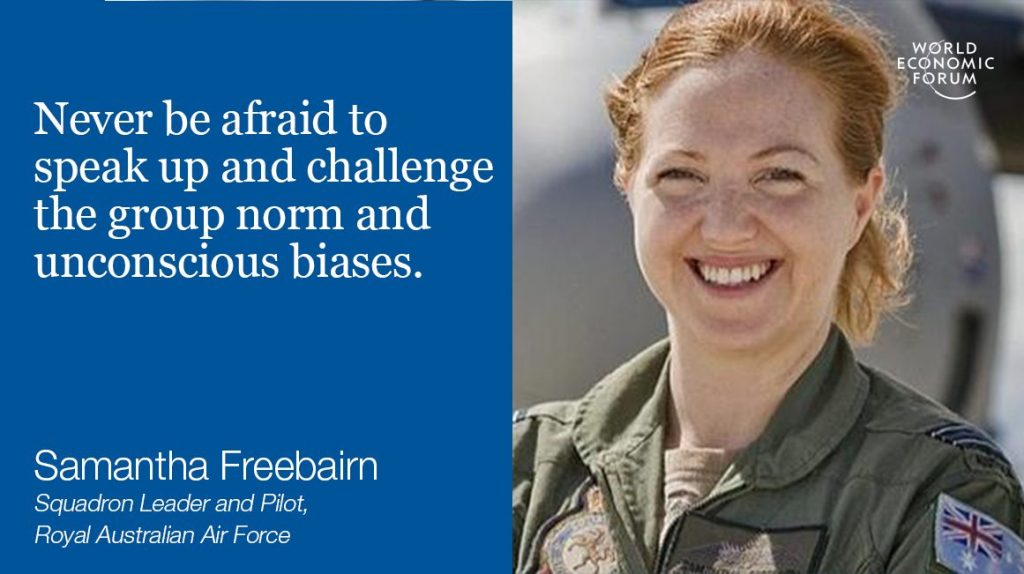 Post flying the humanitarian relief mission with the Bali Bombings made Samantha see that being different is in fact the value she added. This has further driven her to focus on supporting aspiring women leaders to;
Never be afraid to speak up and challenge the group norm and unconscious biases.
Ms Freebairn said she sought to encourage more women to join the air force after being the only woman in her graduate class of 1996. In 2013 Samantha developed a graduate pilot scheme for women. The scheme, run in partnership with the RAAF and Griffith University, grouping female students together to provide them with mentors, and in some cases can pays university fees.
2014 Samantha Freebairn Won the Queensland Telstra Business Women's Innovation Award for her work to encourage more women to study military aviation rather than civil aviation.
I've seen the number of female pilots double in the last two years after it remained stagnant for more than 30 years before, knowing I've made a difference to the amount of women pilots coming through is amazing progress!
Following this in 2016 Samantha Freebairn whilst Squadron Leader in the RAAF was selected as a 2016 Young Global Leader by the World Economic Forum.
This honour is bestowed by the World Economic Forum each year to recognise the most distinguished leaders under the age of 40, nominated from around the world.
Mrs Freebairn's selection is in recognition of her record of professional accomplishments, her commitment to society and her potential to contribute to shaping the future of the world through her leadership.
As an honouree, she has been invited to become an active community member of the Forum of Young Global Leaders for a period of five years. The community forms a unique global network of peers from diverse backgrounds and fields, with a highly visible opportunity to significantly impact world affairs and shape the global agenda.
https://www.weforum.org/agenda/2017/03/women-leaders-gender-gap/
Today Samantha is a keynote speaker, the Deputy Director of the Australian Air Force Cadets aviation activities, Women's Leadership Specialist and works and a Business Coach. 
We are thrilled to have her join for our event DARING TO LEAD CULTURAL CHANGE
WEDNESDAY JUL 24, 2019
6PM-9:00PM 
INTIMATE DINNER AT GUY GROSSI'S MERCHANT
495 COLLINS ST, MELBOURNE VIC 3000

TICKETS ARE SELLING FAST;
https://events.humanitix.com.au/dare-to-lead-cultural-change
https://www.eventbrite.com.au/e/dare-to-lead-cultural-change-tickets-62246410690