Career defining moments that set the course for success, Digital Women's Network
February 22, 2017, at 6:00 pm

to

8:30 pm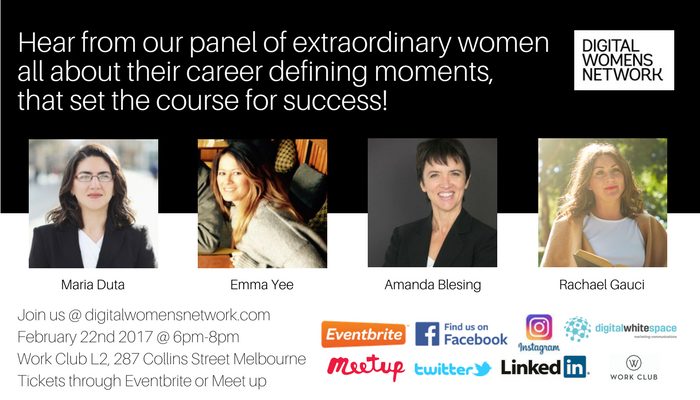 Hear from our panel of extraordinary Women, who will share their stories, moment and motivations. Join us 22nd February 2017 as we kick off the year with a focus on how to develop strategies for careers success! Held at Work Club Melbourne from 6pm on Wednesday 22nd February- It's sure to be a night of insight and sharing. In every person's life, there are critical moments and/or decisions that have influenced our success and have, these may often inadvertently, made a huge impact on our future. 
We are delighted to host our panel of diverse and extraordinary Women who will share their stories, moment and motivations we are delighted to have joining us;
Maria Duta- Managing Director of global leading business FTI Consulting
Maria is a Managing Director at global business advisory firm FTI Consulting in its Corporate Finance and Restructuring practice. Born in Romania, Maria arrived in Australia as the daughter of a refugee at age 15 speaking almost no English. After completing university, Maria qualified as a Chartered Accountant holding leadership positions with advisory firms Ferrier Hodgson and KordaMentha and Australia's regulator – the Australian Securities and Investments Commission. A mother of four amazing children aged 11 to 2 Maria is also a board member of Early Childhood Management Services, a leading Melbourne based NFP early childhood services provider, with 70+ early care centres, positively influencing 6,000+ children weekly. Maria has over 20 years of leadership experience across operational and commercial environments, governance, regulation and financial and turnaround management. She is an excellent collaborator who delivers record results, driven, focused and committed to making a difference.
Emma Yee- Acting CEO of Peter Rowland Catering 
Emma is one of the youngest people within the Executive Team of Peter Rowland's, since joining this iconic business in 2010 she has quickly progressed through the business to the position of General Manager – Operations in 2013 and in 2017 is the current Acting CEO. Emma has gained a wealth of experience within the hospitality industry in both operational and management positions. She has worked within a diverse range of businesses including hotels, sporting stadiums, restaurants and corporate catering in Australia and the UK. Her operational, result oriented and strategic mind set has seen her excel. Emma thrives in a highly competitive, energetic and flexible environment whilst leading a dynamic and highly motivated team with conviction.
Amanda Blessing – Founder of The Ambition Revolution
As the creator of The Ambition Revolution program, Amanda is an engaging speaker who gets right to the heart of the issue with statistics, stories and insights as to what the problem is and what you can do about it. For the past 20 years Amanda has walked her own talk as she worked her own way through the ranks of the association world with her last role as Chief Executive Officer of SOCAP Australia – and all this in addition to working part time as a yoga instructor, inspiring others to achieve a healthier and more balanced life along the way.
Rachael Gauci- Product Operations Motorola 

Rachael is passionate about animals, charity and giving back. She is a confident presenter and successful driven woman, with over two decades working across information technology, telecommunications and mobile phone methodology. This experience Rachael brings to her roles a senior product operations manager for Motorola also she runs her own skincare business as well as being a coach and supports others as a coach across personal development and leadership courses. Most recently she has just finished developing and launching over 7 new products for Asia Pacific. Rachael is a positive go-getter who drives initiatives and to deliver outstanding results.
We are all influenced by our environment, we have the choice to be complacent or to be ambitious. Ambitious behavior comes in different forms and can start with a small action or a moment of inspiration. Come, listen and be motivated the stories of highly successful women and their defining moments. This might be one of your defining moments. Nibble and light refreshments provided, looking forward to seeing you there!
https://digitalwomensnetwork.com/
https://www.eventbrite.com.au/e/defining-moments-that-set-the-course-for-success-digital-womens-network-tickets-27665348803
Follow our website and social media for more information.  www.digitalwomensnetwork.com