INTERNATIONAL WOMENS DAY LUNCHEON & DIGITAL WOMEN'S NETWORK
March 8, 2017, at 1:00 pm

to

3:00 pm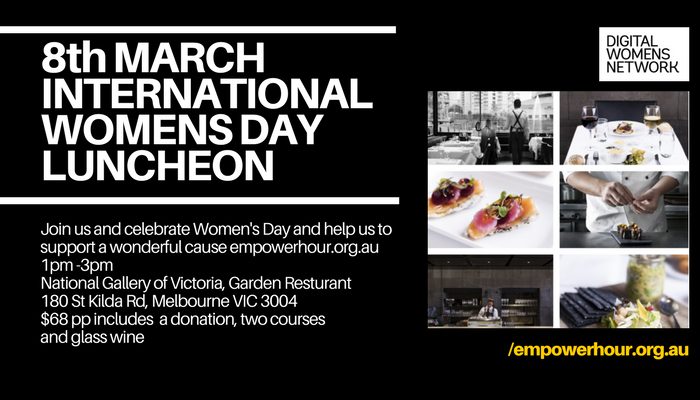 INTERNATIONAL WOMENS DAY LUNCHEON
Join us and celebrate Women's Day and help 
us to support a wonderful cause empowerhour.org.au
1pm -3pm 
National Gallery of Victoria, 
Garden Resturant
180 St Kilda Rd, Melbourne VIC 3004
$68 pp includes  a donation, two courses and glass wine
Please note this is a Peter Rowland venue, so food and service will impress.

https://www.internationalwomensday.com/Activity/9034/DIGITAL-WOMENS-NETWORK-INTERNATIONAL-WOMENS-DAY-LUNCHEON
INTERNATIONAL WOMEN'S DAY – MARCH 8, 2017 THEME: #BEBOLDFORCHANGE 
International Women's Day celebrates the social, economic, cultural and political achievement of women. Yet progress has slowed in many places across the world, so global action is needed to accelerate gender parity. In 2017, we are looking to support empower hour and pledge our support for women's advancement, please see details http://www.internationalwomensday.com/Resources#leaders
EMPOWERHOUR
You can make a real contribution to the lives of thousands of Australian women. To celebrate International Women's Day BE BOLD and stand with Dress for Success – help us empower women to achieve economic independence by donating an hour of your pay today. While a fabulous suit, a gorgeous pair of shoes and a shiny handbag helps boost the confidence of a woman, it takes much more to empower and upskill her to thrive in work and life. That's why Dress for Success provides outstanding opportunities for our clients to engage and participate in:


Coaching sessions


Peer Mentoring Networks


Career development workshops


Job interview and resume writing tips


Styling session and job interview suit


Mock interviews


Your donation today is so important. YOU are helping us to give thousands of women across Australia the confidence to get back on their feet and into the workforce.