SOLD OUT!! HOW TO KEEP UP WITH THE EVER CHANGING DIGITAL LANDSCAPE!
May 22, 2019, at 6:00 pm

to

8:30 pm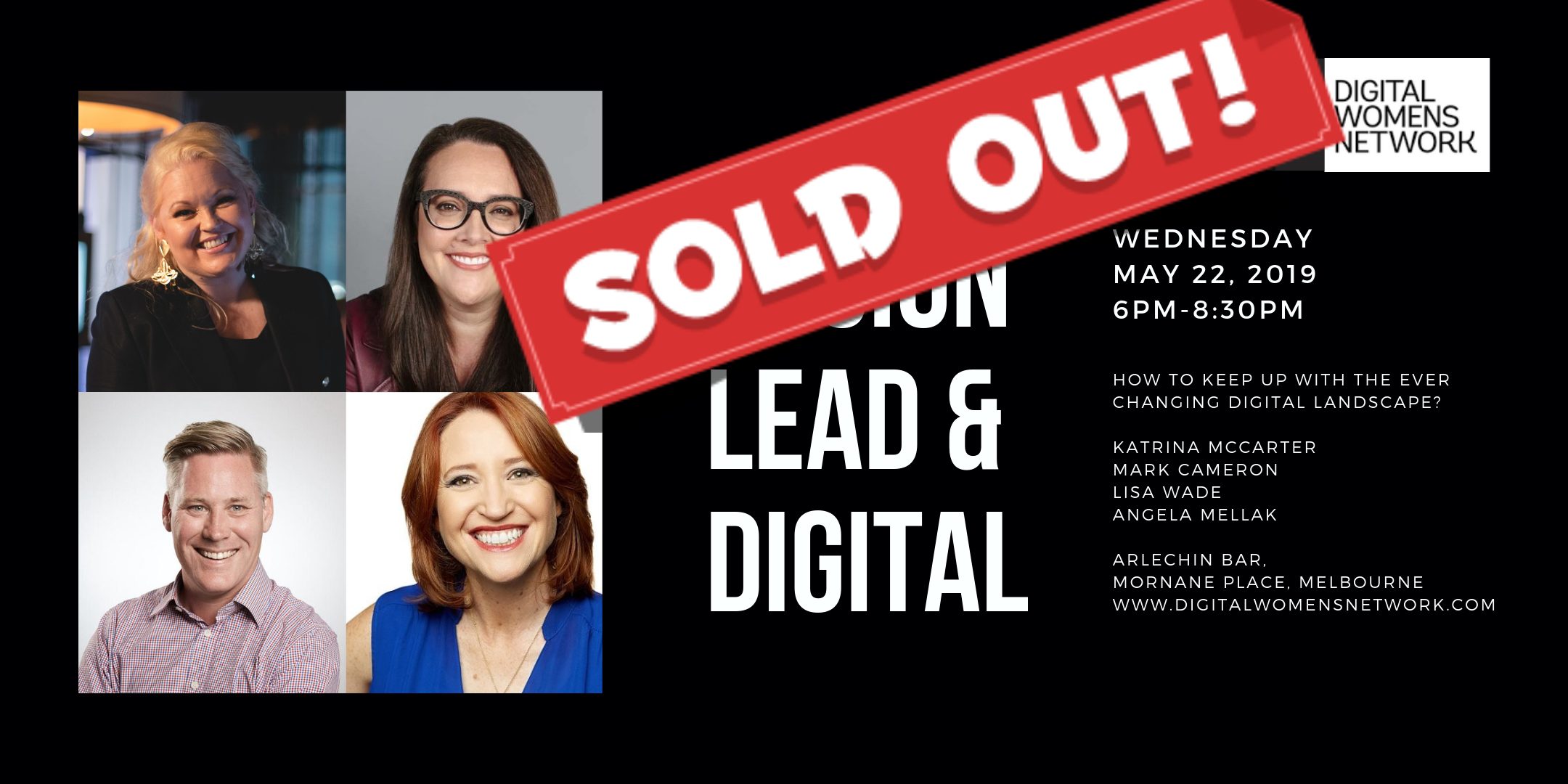 Join us for a night of networking, learning and Grossi hospitality on May 22nd 2019. 
There is no longer a division between the digital and physical world, so how can businesses and brands stand out from the crowd?
This exclusive panel event we will focus on how challenging it is to keep up with the ever-changing digital landscape. We will explore what all business should be doing digitally, unpack the landscape, explore design thinking and its application. Discuss the digital trends, tools, service design, digital innovation and customer data strategy. We are delighted to host this panel event which will be moderated by the team at Digital Women's Network. Our Panel includes a line up of experts includes;
Katrina McCarter, International speaker, Founder and CEO of Marketing to Mums


Katrina has over 18 years sales and marketing experience working across diverse industries including grocery, hardware where she was always targeting mum as the purchaser this drove her to create the Bestselling book "Marketing to Mums'


2018 Finalist in B&T's Women in Media Awards (Marketing category)


2017 Finalist in B&T's Women in Media Awards (Entrepreneur category)


#1 on Booktopia's Business Best-seller list


Book listed in 'Must Read Australian Advertising and Media Books'  


Regularly speaks internationally – Moms & Marketing Conference (Paris 28/9/18) and M2Moms Conference (New York 3/10/18). 


Lisa Wade Founder and Principal of CareerXD.com 



Lisa is a pioneer in the experience design industry and has been a leading practitioner since the dot com boom of the late 90s. She was an owner of Stamford Interactive, formerly Australia's largest experience design agency when it was acquired by PwC in 2014. She then worked to embed human-centred design into PwC's consulting approach and shaped PwC's Experience Centre, which has grown to be a market-leading experience design capability offered by PwC firms around the world. Lisa Wade is a human-centred design career coach, and the founder of careerXD.com, a coaching platform that helps professionals pivot their careers into UX or service design, to help them grow amazing design careers.


Angela Mellak MCIM, Top 3# Australia Linkedin Influencer, Anthills Judge top 100, Marketing Strategist Co-Founder and MD of Digital White Space and Founder of Digital Women's Network.


Angela has over 25 years experience in global marketing. Angela is a Digital Marketing Strategist who excels at promoting people and creative collaborations to bring out the distinctive best in every brand. This mirrors her striking background in retail, financial services, real estate, technology, and mobile and media creative, as well within her Board Roles. Angela is a leading advocate and voice for Business Women in Australia and internationally. Angela empowers Women (and Men) across the industry, keeping them at the forefront of the digital revolution.

 



2018 Anthills Maven Judge Top 100 innovative companies.


2017 Linkedin award for 5th Top Ranking Agency Influencer in Australia


2016, Angela founded the Digital Women's Network, growing on to increase the Network to over 35,000 Women and Men.


Angela is a contributor and speaker for companies like Adnews, Envato, Australian Business Executive Magazine and Young Professional Women Australia.


Mark Cameron Digital Strategist, keynote speaker, media commentator and CEO W3 Digital, 


A customer experience and digital transformation consultancy. Mark has been in the digital strategy and transformation space since the late 90's and has worked with companies such as SAP North America, GSK, AustraliaPost and Telstra. Mark has worked on a vast array of digital and customer focused projects including major political elections, global brand strategy, innovation strategy, transformation initiatives, and digital product development. 


Digital strategy columnist for BRW for over 5 years.


Columnist for Major Australian magazines Marketing Magazine and 

CMO.com.au

. 


Columnist for global publications such as Marketing Week and Smart Data Collective.


His writing has also been featured in The Australian Financial Review, The Age and the Sydney Morning Herald.


The only person in Australia to be certified as an Experience Economy Expert, the framework that brands like Lego, Ikea and Disney use to develop and commercialise their customer experience.


Join us to network the evening away, meet like minds and enjoy the Grossi hospitality.


Arlechin. 


May 22nd 2019


6-8:30 pm 


Mornane Pl, Melbourne VIC 3000 (in the alleyway just behind Grossi Florentino)


Nibbles provided by Grossi!


Looking forward to seeing you there!
Be quick before we sell out 🙂
Cheers The team of Digital Women's Network