The next media revolution, Augmented reality and Digital Women's Network
October 18, 2017, at 6:00 pm

to

8:30 pm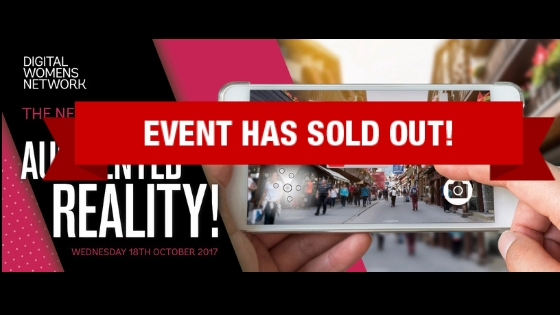 Learn all about The next media revolution!
With the rise of AR technology, the information about the surrounding real world has become more and more interactive and digitally manipulable. Augmented reality will allow us a unique way to control our increasingly digital world. It will be what we call "The next media revolution"
In this event, we take a look at the trends surrounding Augmented Reality and are joined by Rupert Deans, CEO of Plattar, an augmented reality platform. Rupert will provide insights into the power of AR and why 2017 is a massive tipping point for AR. He will share with us how AR works, explore how it is being adopted as a powerful tool for some of the largest tech brands in the world. Also provide key user case studies and why this is the start of another media revolution!
Join us Wednesday 18th October 2017
·        6pm-8:30pm
·        2, 287 Collins Street, Melbourne
·        Door prizes
·        Goodie bags
·        Catering by Peter Rowland, and a glass of wine included
·        Drinks at bar prices
Bio of Rupert; A Digital Marketing pioneer, Rupert Deans grew up with dyslexia as a child and relied on visualisation to learn, understand and engage with the world. This lead him to create NZ's first digital agency One Fat Sheep (OFS) based in Christchurch. The defining moment was when OFS created the World's First 3D Zombies Shooter on a Pizza box for Hell Pizza, utilising Augmented Reality, it was the most downloaded app in NZ over Facebook and Trademe for a number of weeks. Off the back of this, Rupert recognised the enormous potential of Augmented Reality (AR) to solve practical problems and set out to create a tool that would enable anyone to build their own AR experiences with ease this lead to the formation of Plattar. https://plattar.com/
Bring your business cards ☺
We look forward to seeing you there.
Digital Women's Network
if you are planning to drive, there are good night rates for parking;
460 Lonsdale street offer night parking from $7* if booked online, in after 4pm out before 6am.http://www.secureparking.com.au/car-parks/australia/vic/melbourne/460-lonsdale-street
Or 15 William street, offer night parking from $7* if booked online, in after 4pm out before 6am http://www.secureparking.com.au/car-parks/australia/vic/melbourne/15-william-streetcheap parking options;
522 FLINDERS LANE, MELBOURNECasual Parking from $12Early Bird Parking from $15$7.50 Evening ParkingWeekend Parking from $10$25 PM Parker
300 FLINDERS STREETCasual Parking from $10Early Bird Parking from $15Evening Parking from $8Weekend Parking from $8$21 PM Parker$16 Party Parkerhttps://www.secureparking.com.au/secure-a-spot/melbournehttps://www.secureparking.com.au/promotions/melbparking