As we open up the discussion about Leadership and in particular Female Leadership, we had the pleasure of sitting down with Samantha Freebairn ahead of our Daring to Lead Cultural Change event July 24th Melbourne.
Women hold 13.7% of chair positions and 25.8% of directorships and represent 17.1% of CEOs and 30.5% of key management personnel (WGEA 2019).
35.2% of boards and governing bodies have no female directors. By contrast, only 0.9% had no male directors (WGEA 2018, Australia's Gender Equality Scorecard).
Here are some insights and thoughts of Samantha's first-hand experience in creating systemic change in the Royal Australian Air Force.
How do we remain feminine and be equal/in charge and respected?
I think we first need to acknowledge and be comfortable in our own skin. You'll never lead to your potential if you are grappling with trying to fit in and adapt = that takes energy.
Where do we as Females go it wrong or get it wrong?
We may perceive our environment to be a mans world. In my experience it is the fact that I felt as though I stuck out. And when you stick out, you don't get the luxury of a bad day, or a good day for that matter, when you stick out, good performance, and poor performance blends in with all performance. And this is a constraint within our organisations.
What gave you the courage to want to make a changes in the RAAF?
A supervisor who enabled the change to be articulated and developed and ultimately supported.
What drove you to take the action?
The knowledge that if I did nothing, then nothing would change.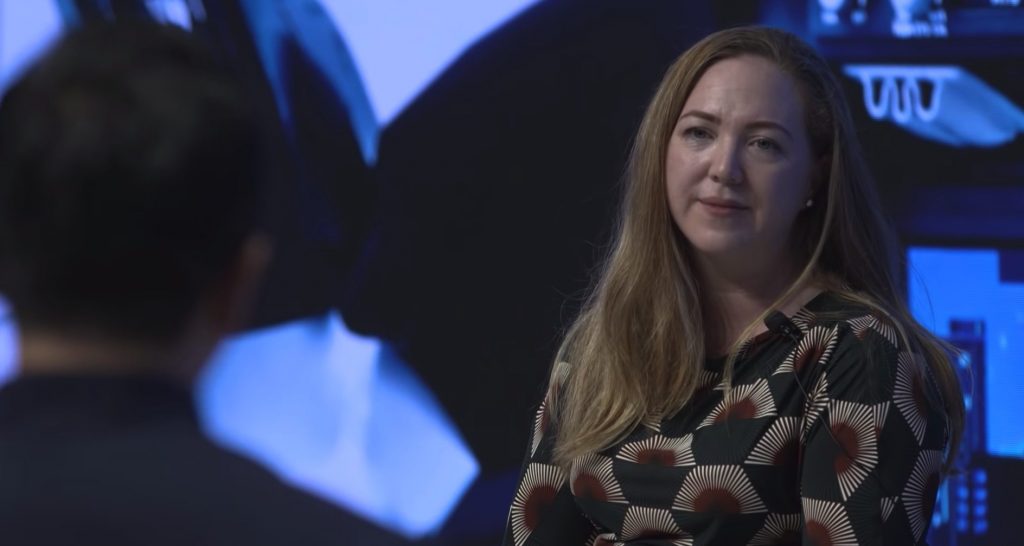 Is it women that perceive there is a glass ceiling?
No. But it does depend – how's that for a non-committal answer?! I feel there are a number of barriers to the progression of women into senior leadership positions. A report released yesterday actually by Rapid Contact into defence Industry, found not only does recruitment pipeline need addressing, the progression and retention required a big focus.
Are women still cutting other women down to reach their own goals?
I don't believe so – maybe some still feel as though they are surviving, and not able to thrive. Only when given opportunity to thrive can you truly help others.
Here is Samantha speaking at the World Economic Forum earlier this week.
We are delighted to host Samantha Freebairn for a very interactive dining event at Grossi Group Venue – Merchant on Collins Street.
JOIN US FOR SOME GROSSI HOSPITALITY
THREE COURSE DINNER
WEDNESDAY JUL 24, 2019
6PM-9:00PM
AT GUY GROSSI'S MERCHANT 495 COLLINS ST, MELBOURNE VIC 3000
DARING TO LEAD CULTURAL CHANGE, WITH SAMANTHA FREEBAIRN
TICKETS;
https://www.eventbrite.com.au/e/dare-to-lead-cultural-change-tickets-62246410690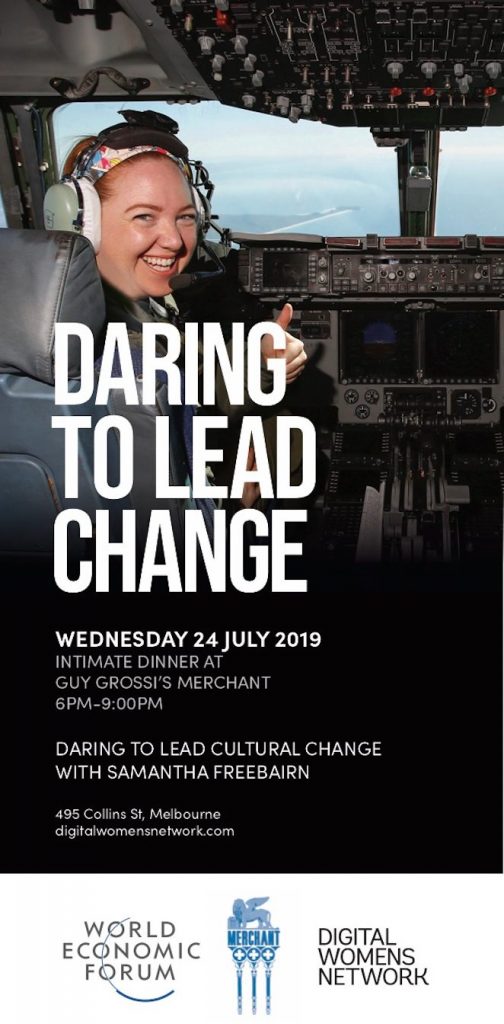 Tables of 10 can be purchased however tickets are now limited, get yours before we sell out.
Earlier in Samantha's career, she worked as an Air Force Pilot, flying both combat and on humanitarian relief missions. As a highly skilled pilot, Samantha was the first woman in Australia to instruct pilots in the C-17A simulator.
As a Gender Diversity and Inclusion Advocate, Samantha wrote the RAAF policy which enabled her and other women the ability to return to operational flying positions after having children.
Later Samantha was employed as the Operations Flight Commander for 36 Squadron and their fleet of eight C17 Globemaster aircraft.
In 2014, Samantha won the QLD Telstra Business Women's Award in Business Innovation for her Graduate Pilot Scheme, which incentivises military aviation to women who had never previously considered it. Increase in Female pilot numbers had been stagnant for over 30 years, Samantha's new initiative resulted in successfully doubling the number of Female pilots in the Air Force in a two-year period.
2016, World Economic Forum, Young Global Leader most influential global leaders under 40 years
2014 QLD Telstra Business Women's Award winner, Business Innovation (Graduate Pilot Scheme)
Wing Commander, Pilot, Royal Australian Air Force
First Women in Australia to instruct pilots in the C-17A simulator
Gender Diversity and Inclusion Advocate
Currently the Deputy Director of the Australian Air Force Cadets aviation and Women's Leadership Specialist
Never be afraid to speak up and challenge the group norm and unconscious biases. "Samantha Freebairn"
Samantha's Education & Qualifications include;
Bachelor of Science degree,
Masters of Management in Leadership,
Certified Workplace and Business Coach
Graduate of Harvard University (John F. Kennedy School of Government) 'Global Leadership and Public Policy for the 21st Century' program.
Operational C-130H Hercules Pilot
C-17 Globemaster pilot
Today Samantha is a keynote speaker, Wing Commander, Pilot for Royal Australian Air Force (RAAF), World Economic Forum Global Leader, Telstra Business Woman, Gender Diversity and Inclusion Advocate, Mentor and Women's Leadership Specialist the Deputy Director of the Australian Air Force Cadets aviation activities, works and a Business Coach a busy Wife and Mother of two..